Straps With Power band technology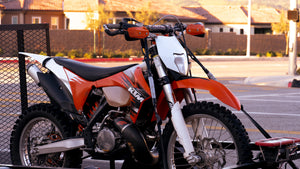 Bike.
Kayak.
off-road.
Seriously, it's about time...
Why Buy Direct From TorkStrap.com?
-30-day hassle free returns
-Lifetime customer support
-Access to exclusive news and future discounts
SIMPLICITY OF A STRAP WITH THE VERSATILITY OF A BUNGEE
No more confusing mechanisms, just Natural Physics™... TorkStrap's patent pending design of combining high strength flex with a robust pull strap is a revolution in the market. Order yours today.
ASSEMBLED IN THE USA
Testimonials
We purchased TorkStraps to tie down paramotors... with previous straps, over bumps, it would come loose and the motor would tip. Every time I cinch them down I smile. These are a godsend!

Brent Childers
I bought these straps to secure ebikes to the rack on my RV. Typical ratchet straps can overtighten and bend the rack going over major bumps. These straps allow for constant secure tension while allowing for some movement. I was concerned as well that the spring clamp would loosen without the ratchet mechanism. Not to worry. These have worked marvelously! Very pleased with this purchase.

Verified Amazon Review
Sold Nation Wide